Have you noticed how time is flying by these days? Or is it only me? My baby, the smallest of my brood of three, will be turning three in a few weeks and I still think of him as my baby. Given his ability to walk (or should I say run at the speed of light), talk (like a waterfall) and fight with his brothers (in a manner that Muhammad Ali would be proud of), he clearly has passed the baby stage and is moving on to adulthood faster than I feel comfortable with.
Here is my dilemma: what to give him for his third birthday, when, due to the existence of two older brothers and an overly generous family, "we" already own every toy a child could dream of (other than that gigantic tree house my husband has been planning to build for the past five years of course)? After much head scratching and market research, my conclusion is simple: He shall get his first automotive vehicle. Now it may not have a motor or engine of any kind and will be powered by his little feet, but he shall get his own form of automobile.
Given that Sinterklaas and Christmas are just around the corner, I suspect there may be a few people looking for gift inspirations, so I thought I would share a few of my favorites with you.
Probably no longer suitable for a child of three, but still one of my "baby's" favorites, the "loopauto". When contemplating the acquisition of one of these, always bear in mind that you may be pushing or carrying the auto half the way!
For the child that is able to master the motor skills to move those pedals round and round and round, the tricycle in its classic (or not so classic) form:
Mastered pedaling and ready to move on, but just not comfortable on your own bicycle yet? Then the loopfiets is the answer. For my son, motorcycle obsessed that he is, I think I have found what will be his favorite.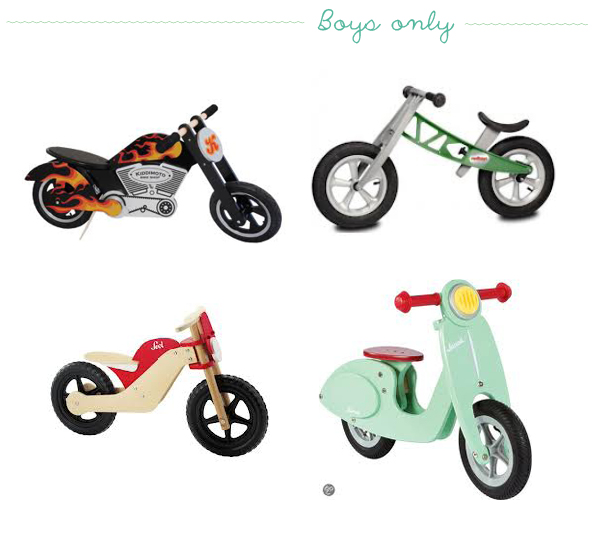 car 9 ; car 10 ; car 11 ; car 12
Having chosen your vehicle, there is of course always the possibility of adding a few extras to make the automobile experience more realistic.
tankstation ; race-uitrusting ; verkeerslicht
Last but not least, slightly unaffordable, yet so beautiful, I couldn't resist posting them, the most beautiful trapautos, which even I would be proud to own (if only I could fit):
car 13 ; car 14 ; car 15 ; car 16 ; car 17
Wishing you a happy holiday season!
MoodKids is hét meest complete online magazine voor de allerleukste ouders. Lees snel verder wat je van ons kunt verwachten >>